Dinosaur Printables
Looking for some fun and educational Dinosaur Printables?
This selection of printable mini-dino books, coloring pages and tracing worksheets are just the thing for your lessons, lapbooks or unit studies.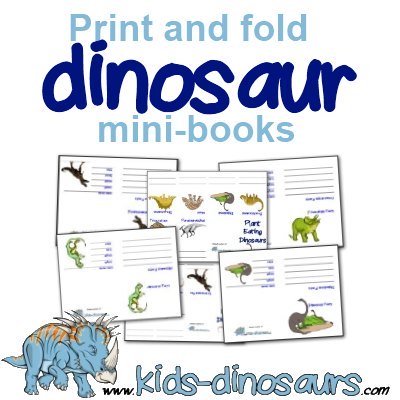 Dinosaur Tracing Pages
Tracing lines and shapes is a great activity for younger children. It helps to develop hand to eye co-ordination and dexterity. 

Combine this activity with dinosaurs for even more fun!
Dinosaur Mini-Books
This selection of mini-dinobooks prints 1 per page - then folds into a small 8 page booklet. You can find folding instructions on this site.
Carnivores - kids love them!

This mini-book contains 6 of the best. There is space underneath each dinosaur for your child to write some facts or information about them.
---
Interested in the larger plant eating dinosaurs?

This mini booklet contains 6 plant eaters - with space for some notes.
Printable Dinosaur Fact Workbooks
These small workbooks fold into a quarter page booklet. Each one covers a single dinosaur.
There is a space for your child to write facts about the dinosaur (such as weight, length, meaning of the name) - and a blank page for them to write other interesting details. Folding instructions are in the image below.
How to fold these dinosaur printables: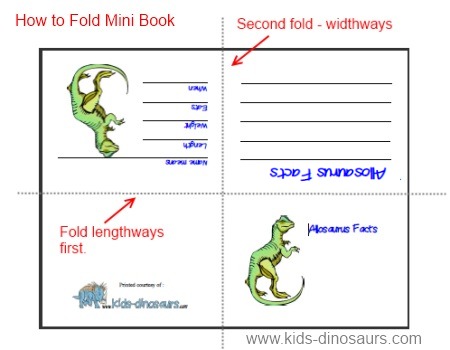 To fold the mini books, first fold your printed copy in half lengthways with the images on the outside. Then make a second fold to make the booklet. The cover and back page should be on the outside, with the facts pages inside.
Dinosaur Coloring Pages
Need some coloring sheets?

These dinosaur coloring pages will be just the thing.
Word Search
Yes, I have some word searches too!

4 different printables ranging from very easy to harder! Something for everyone.

And why not also check out these dinosaur word activities.
More Dinosaur Activities
Still looking for printable activities. Check out these fabulous ebooks!
---
I hope your kids enjoy these printouts. Do check back later - I am adding more all the time.
Kids-Dinosaurs
›
Dinosaur Printables