Dinosaur Word Activities
These free dinosaur word activities make the perfect addition to your homeschool or classroom lesson plan. 
Kids who love dinosaurs, will have fun with these word activities! I have tried to cover several different types of activities and age ranges for you to use with your kids at home - or in your classroom.
And all of them free :)
Word Searches
Would you love some free dinosaur word search printables! 

Great, because I made some for you.

Just go to my dinosaur word search page and print what you need. 
Word Pictures
Turn words into a dinosaur image!
This idea lets you make images of dinosaurs from words.
For young children simply make your own images and print them out as classroom posters. 
Older children can write an essay about their favorite dinosaur - and have them turned into an image.
For the image above I used Tagxedo. Simply click on the 'Create' button to make your own. You will find the dinosaur shape in the shape menu. Click 'load' to enter a web address (I used kids dinosaurs Diplodocus page!) or to enter your students writing.
There are other programs that let you do a similar thing.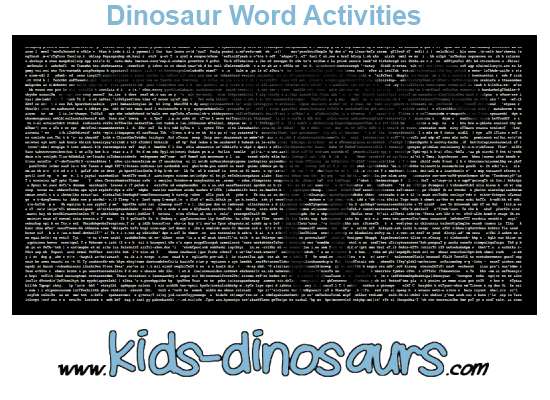 These look great inside a homeschool lapbook or classroom project book.
A similar idea is to make a large bulletin board sized dinosaur. Get the children to paint adjectives on separate pieces of paper - then you can make a 'word wall' by pasting the words inside the dinosaur body.
This makes a great display piece!
---
Guess the Dinosaur
Guess the dinosaur wordles really get your students looking at words associated with different dinosaurs.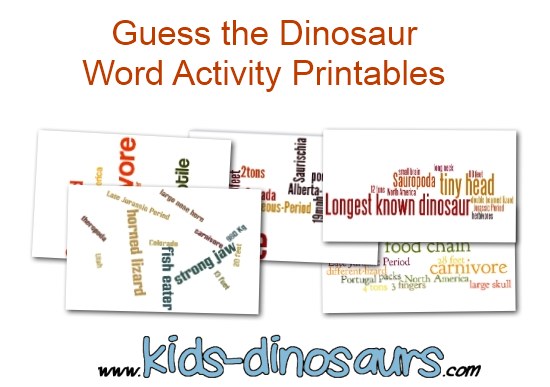 Try these fun 'guess the dinosaur' printables to help your kids learn their dinosaur facts. Get the children to look at the description on each dino, and try to work out which dinosaur each one belongs to.
Or make your own dinosaur wordles using adjectives to describe each one. You could use them as inspiration for a classroom bulletin board, or for lapbooks and notebooking.
---
Word Scrambles
For a fun game, print out letters making up dinosaur words onto card. Cut out each letter separately, mix them up and get the children to try to unscramble the letters to make the correct word.
This works for all ages as you can change the words to suit the reading level. 
---
I hope you enjoy these dinosaur word activities. For more dinosaur fun try my dinosaur printables and coloring pages.
Go to kids-dinosaurs home page from dinosaur word activities.