Dinosaur Stick Puppets
Imaginative Dinosaur Play
Do your children love dinosaurs? 
Then they will love playing with this cute dinosaur stick puppets!
These 16 bright and fun puppets are easy to make. Just print onto cardstock, cut around the box and add a popsicle stick to the back.
Easy to make, but providing hours of entertainment!
Puppets are a fun and educational way to engage with children and can be used in all kinds of educational ways. Use for creative storytelling, help with learning, as a way for children to discuss or express emotions - or use them to act out and rehearse situations the child finds difficult. I include a list of suggestions in the ebook.
The ebook contains
Ideas for educational play
16 adorable images to make into puppets
I find children love these puppets and get very imaginative with them. Perfect for rainy days or car journeys too!
Download your ebook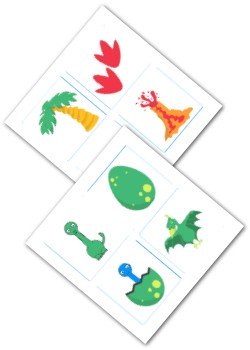 Only $2.99
INSTANT download from the homeschooling-ideas store!
Instant Download PDF: 7 Pages (16 puppets)

Frequently Asked Questions:
Will something be delivered in the mail? No. This ebook is for download only.
How do I get my ebook? Once you have paid, you will receive a link to download the PDF file. A copy of the download link will also be sent to you via email

Does it contain popsicles? I am afraid not! You will have to provide your own.
How do I make the puppets? Print the 4 pages of images onto thin cardstock. Then cut out the 16 puppet images around the box. Glue or tape a popsicle stick or straw to the back of each puppet.
Why does the buy button go to 'Homeschooling-ideas' store? I own both websites. By hosting the store on only one I get to keep costs down and pass on that saving to you.
What if something goes wrong with my purchase? Just get in touch via my contact form and I will help.
Can I use these puppets in my classroom? Yes, the ebook is for personal use by homeschoolers or use by ONE teacher in classroom situations. You may not resell or give away copies of the book.
Kids-Dinosaurs
›
Dinosaur Stick Puppets