Dinosaur Jokes and Riddles
Need a laugh? There are some great dinosaur jokes and riddles on this page.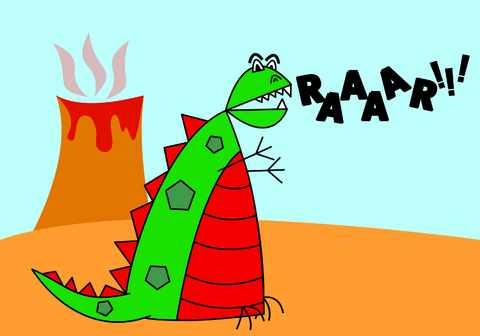 Here are some dinosaur laughs to keep you going.
Which dinosaur has the worst eyesight - the 'doyouthinkhesaurus'.


Why did the dinosaur paint his feet yellow - so he could hide upside-down in custard.


What happened when the triceratops ate a bunch of keys? - He got lock jaw.


What is large, fierce and has 4 wheels? - A dinosaur on a skateboard.


How do you stop a Stegasaurus from smelling - Put a peg on his nose.


What do you call a Dinosaur that is always on time - a pronto-saurus.


What's yellow and dangerous - Dinosaur infested custard.


What do you get if you cross a dinosaur with a pig - Jurassic pork.
I hope you enjoy reading our jokes and riddles.
See other reader's jokes and riddles
Click below to see jokes and riddles from other visitors to this page...

5 Best Dinosaur Jokes

What did the dinosaur say when the volcano exploded? Have a lavaley day.
Dinosaur Joke

WHAT DO YOU GET WHEN YOU CROSS A DINOSAUR WITH A JOKE - A JOKESAUR. HA HA HA
??My Dinosaur Riddle??

why did the triceratops paint himself in different colours ? Because he wanted to hide in the crayon box !
Kids-Dinosaurs
›
Dinosaur Jokes